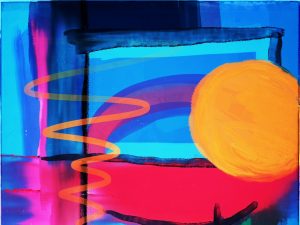 In contrast to the broader definition of "the arts," which encompasses a wide range of creative endeavors beyond just visual art (such as theater, music, and design), the visual arts refer specifically to works of art that are meant to be appreciated by the naked eye. Fine art, commercial art, and decorative art are the three broad categories into which these visual arts can be placed. There are numerous subgenres within each of these categories of visual art, and they can range from representational to abstract to non-objective.
Fine Art
Fine art is defined as a form of artistic expression that focuses primarily on aesthetics. Through this understanding, fine art is elevated above purely decorative or commercial forms of art. Without concern for marketability or practicality, high art allows the artist's imagination to flourish.
However, more inclusive definitions of the fine visual arts would also include sketching. Although the masters' sketches may have been the forerunners to painting and three-dimensional art, they are still considered works of high artistic quality in their own right. The term "fine arts" emerged during the Renaissance as a way to distinguish between traditional forms of artistic expression and the emerging fields of commercial design and handicraft. What makes this work of art "fine" is not a judgment on its quality. Instead, the definition emphasizes the importance of technique and honesty in practice.
Decorative Art
In spite of their obvious aesthetic and practical value, decorative arts are often overlooked as legitimate forms of creative expression. You can interchange the terms "decorative arts" and "crafts" because the end result is both aesthetically pleasing and functional. Things like manufactured interior objects and interior design can be part of the decorative arts, but architecture is usually not.
In most cases, if something is made by a skilled craftsperson and intended for aesthetic purposes, it will be considered a work of decorative art. Techniques in ceramics, glassblowing, woodworking, textile arts, enameling, and metalworking are all frequently used in the realm of decorative arts. Each of these formats can be broken down even further. For example, the textile format includes not only textiles but also clothing, wall tapestries, basket weaving, needlework, and materials for the interior.
Commercial Art
Commerce, like the decorative arts, can serve a practical purpose while also being aesthetically pleasing. It's creative work done for practical reasons, like advertising. Advertising art is created to promote a company, product, or idea in the hopes of increasing sales of those things. Commercial art is commissioned by advertising agencies, public relations firms, and corporations to get their messages out to consumers.
Publications, websites, applications, television, retail displays, and product packaging are just some of the places you can find examples of commercial art. Despite its long history of service in advertising, commercial art is increasingly visible on cutting-edge platforms. Companies, governments, and militaries all use this form of expression to convey their messages to the public. Commercial painters were the first people to make famous posters for the military, state propaganda, and public works.